Armory - Enchantment
Guide by Nikolai from PN Forum
---
Enchanting items may give you a tough start. There are many different enchantment stones for Weapon, Accessory, Top, Armor, and Bottom. They are all pretty straight forward but [Bottom Enchantment Talisman] can be used for the belts or boots.
There are different levels for enchantment stones. Level 1 enchantment stones are for equipments level 21-30, level 2 is for equipments level 31-40, etc. Although the item description says usage level: 21 (see picture below), it really means that it can be used for chest armors that are within level 21 to 30 or third tier.
This is how I like to think of the equipment levels:
First Tier: Level 1 to 10
Second Tier: Level 11 to 20
Third Tier: Level 21 to 30 ... and so on.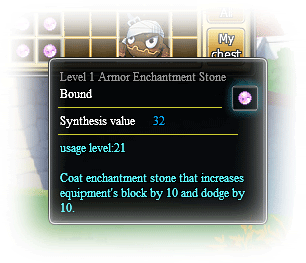 Comments: